Help keep AmpegV4.com alive!
forum
Master Volume on VT40
Hi there,
I have a recently bought a used 1973 VT40 which, of course, does not carry a Master Volume. I tried pushing the volume up a few days ago to check out sound breakup (I used earplugs and still did not remain there long because my belly was vibrating very uncomfortably), and I liked what I heard. So I decided to look into adding a MV. After reading as much as I could on this forum and looking at the schematic (DWG NO 06500), it seemed that the simplest would be to bleed some of the signal to the ground where the "EXT AMP" J3 and J4 jacks are located, i.e. between the two halves of V3. So I made a little stomp box with a 1 Meg audio pot (that is all there is in it. I chose the highest value pot I had handy in order not to reduce noticeably the amp's volume when the MV is at max) and connected it to one of the EXT AMP jacks. And it works great!
So I can't believe there is so much discussing going on about this topic. I can't believe the solution could be so simple ... or am I doing something wrong? Has anybody tried this before? I am not an amp tech even though I have been tinkering with amps on and off for several decades, so I am not too sure of myself. Please let me know if I'm missing something, especially if there might be possible nasty consequences. Thanks in advance. Patrick
Re: Master Volume on VT40
While I've not done this myself on my V4B (haven't needed it), this is exactly the method Ampeg employed when they had the Master Volume pedal for these amps.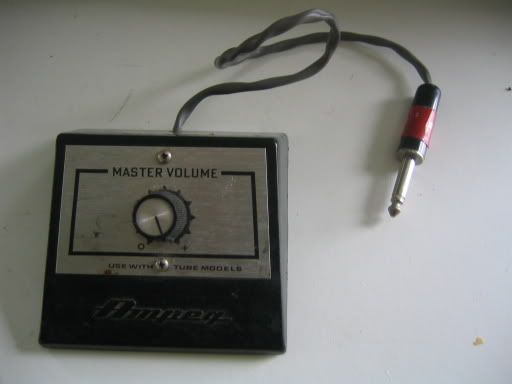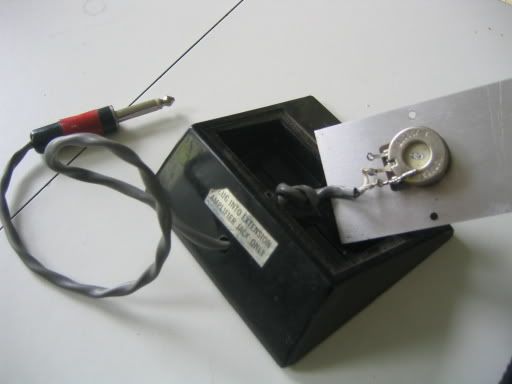 It's a 25k pot to ground that is meant to be connected to the Ext. Amp jack. You're method is sound (no pun intended). I've read some complaints about the results not being very smooth, possibly changeable by experimenting with different value pots. It seems a more elegant solution to me than drilling a new hole in the control panel.
Re: Master Volume on VT40
Thanks a lot. That reassures me as to not doing anything wrong.
And yes, it is definitely more elegant that butchering that great vintage amp. That was the point also, I was looking for a solution that would be as little detrimental as possible.
Concerning smoothness, I haven't noticed anything, but I haven't spent too much time adjusting it yet. I was just so very happy with the result turning the pot nearly all the way down (I get a lot of crunch without tearing my eardrums out).
Your post brings by one other question though: I am surprised that Ampeg used such a low resistance pot (25k). That has to heavily throw off the R20 (100k) / R19 (10k)voltage divider. Maybe this is what impedes smoothness. Anyone have a clue?
Banned
From: Seattle Washington
Registered: 2006-09-04
Posts: 1848
Re: Master Volume on VT40
they also had to keep in mind that the 100k was in parallel with the pot. by using a lower resistance the 100k had less effect on the combined resistance, making the taper smoother.
Member
Registered: 2013-08-10
Posts: 10
Re: Master Volume on VT40
Oh man! I'm so excited to see this worked out well! I can't wait to make one! My VT-40 is a beast that needs a leash. I've never soldered before, I just wrote the OP for some general tips on what to do, but could somebody please explain to me exactly what high value 1 meg audio pot would be best and what cable I should use? (link to get them would be nice)

Thanks!
Re: Master Volume on VT40
Hi,
Sorry for not answering any sooner but I haven't visited this blog in a while I admit (shamefully, cos I learned a lot here and I feel I owe).
To answer your questions, any 1 Meg pot will do the trick. As I wrote, I did not want to reduce loudness if I crank the volume to max again, so I chose a very high value pot. I don't undertand why Ampeg used such a low one (25 k says sewage666), but I am not an electronics engineer, just a do-it-yourselfer. If anyone knows, please tell, cos it somewhat bugs me. One of these I'll try a 25k pot just to see.

My little contraption did show one shortcoming: I had to adjust the pot nearly at '0' or the amp was still too loud (for me). This might be why Ampeg used a 25 k pot. And the pot I used is not very good quality and cuts off before 0 ohm. So I eventually added a 150 ohm resistor inline with the prong that connects to ground.
The result is that I turn the pot all the way down to '0' and am happy with the loudness I then get. That means I could be happy simply using a 150 ohm resistor alone, but I wouldn't be able to crank the amp up again without pulling my little contraption out.

If you have never used a soldering iron, there is nothing much more I can do for you as I live far away (Normandy, France. Yes, I'm a frenchman, but a rock n'roll lover nevertheless. I was born on the wrong side of the ocean, I guess). Ask a buddy to do it for you, it is really simple and inexpensive (it cost me nothing as the stuff needed is straightforward and was part of the junk I have accumulated from years of fiddling with things).

Now, as Hangman has said elsewhere, the preamp on these Ampegs doesn't overdrive that much, so the litlle box I made might not be what you are looking for (it allows to overdrive the preamp but keeps the amp at low level). But it is so inexpensive to make and not at all detrimental to the amp and therefore really worth trying.